Adipocyte-Brain Crosstalk
Thorkild Sorensen (Copenhagen, Denmark)

MD in 1971, Dr Med Sci in 1983, MRC Professor of clinical epidemiology 1989-94, Clinical professor at the Department of Public Health at the Faculty of Health Sciences, University of Copenhagen, and chief physician in clinical epidemiology at the Copenhagen Hospital System 1994-2017. Director of the Institute of Preventive Medicine at the Copenhagen Hospitals 1993-2016, Professor of metabolic epidemiology 2011-17 and of genetic and metabolic epidemiology at the Novo Nordisk Foundation Centre for Basic Metabolic Researchand at the Department of Public Health 2017+ at the Faculty of Health Sciences, University of Copenhagen.
Coordinator of several national, Nordic and European research projects and networks. Main area of research last decades has been various aspects of obesity, genetic and environmental causes, life course development, changes in occurrence over time including the obesity epidemic, psychosocial and metabolic health consequences, morbidity and mortality including relations to diabetes, cardiovascular diseases and cancers, development of a theory about causes and consequences of obesity. Total number of publications are 958, of which 614 are original articles, 102 reviews, and 31 editorials, several papers in the highest impact journals.
Former President in two terms of the Danish Association for the Study of Obesity, and honorary member 2016. Advisor, supervisor or reviewer of multiple doctoral and PhD dissertations, served as scientific advisor, board member and reviewer for many different national and international institutions, organizations, and journals, and research consortia. Population Science and Public Health Award from the International Association for the Study of Obesity for research 201), and the Mickey Stunkard Lifetime Achievement Award from The Obesity Society in Los Angeles 2015. Knight of the Order of Dannebrog 2008, Doctor Honoris Causa at the University of Helsinki, Finland 2010, and of University of Southern Denmark 2011.
Clocks in conflict - how time of feeding matters
Andries Kalsbeek (Amsterdam, The Netherlands)

Andries Kalsbeek is Professor of Experimental Neuroendocrinology at the Academic Medical Center (AMC) in Amsterdam. Prof. Kalsbeek received his PhD in Neurobiology from the University of Amsterdam.

The research of the Kalsbeek group is focused on those hypothalamic systems that control metabolic circulation and the immune system. To unravel the mechanisms of hypothalamic integration his group studies the hypothalamic biological clock and how it enforces its molecular rhythms onto daily physiology and behaviour.
The Neurovascular Unit in Obesity
Cristina García Cáceres (Munich, Germany)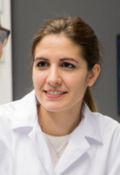 Dr. García Cáceres was originally recruited to the Helmholtz Zentrum München in 2012 from the Universidad Autónoma de Madrid as a Postdoctoral Scientist, and in 2015 was promoted to lead the Astrocyte Biology Division at the Institute for Diabetes and Obesity. During this period, she developed and established her own research group performing cutting-edge, state-of-the-art experiments in collaboration with internationally recognized leaders in the field of neuronal and glial cell biology. This work has already resulted in breakthrough discoveries highlighting that hypothalamic circuits controlling feeding and metabolism require a precise, finely-tuned and coordinated, communication between astrocytes and neurons for maintaining a balanced control of body weight regulation and metabolism. Indeed, she has reported in Cell (García-Cáceres C., et al., Cell 2016) that astrocytes, until recently have considered less relevant than neurons for the brain control of metabolism, have active and vital roles in the rewiring hypothalamic circuits to ultimately balance energy metabolism. These findings and that publication was recently awarded the Excellent Paper in Neuroscience 2017 by ERA-NET NEURON as it represents a paradigm shift in how glucose gets into the brain. Moreover, her work was recently awarded with a prestigious ERC Starting Grant, which has contributed significantly to the consolidation of her research group and international scientific recognition in the neurobiology field allowing her to fully focus on her long-term vision of identifying key astrocytic signaling and molecular pathways implicated in the progression of obesity, thus inspiring and redefining therapeutic strategies to fight diabetes and obesity.
Beyond the hypothalamus - novel targets in obesity
Karolinka P Skibicka (Göteborg, Sweden)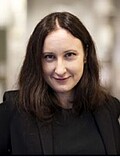 Karolina Skibicka is an Associate Professor of Physiology in the Institute of Neuroscience and Physiology at the University of Gothenburg in Gothenburg, Sweden. Prof. Skibicka received her doctorate in Neuroscience from the University of Pennsylvania where she worked under the mentorship of Prof. Harvey Grill.

Her research aims to understand the behavioral and neuroendocrine processes that govern fundamental homeostatic and reward controls of food intake. Her laboratory has revealed an unexpected link between the intestinal/brain hormone, GLP-1, and brain cytokines (PNAS, 2013) and serotonin (Diabetes, 2017) that proved to be crucial for the food intake reducing effect of GLP-1. Her earlier focus on the interaction of gut signals with the brain reward system led to the discovery that GLP-1 suppresses food reward behavior by acting on the mesolimbic reward system (Journal of Neuroscience, 2012). This innovative finding paved the way for a series of preclinical studies showing the importance of the central GLP-1 system in reward derived from alcohol, cocaine and nicotine, highlighting the scope of the impact of GLP-1 and also the future therapeutic potential of the initial discovery. Recently Prof Skibicka's laboratory discovered surprising sex differences in behavioral and neural correlates of brain GLP-1R activation (e.g. Molecular Psychiatry, 2018).

Her publication record comprises over 50 peer-reviewed publications. She has been frequently invited to lecture internationally, has served as an editorial board member and a grant reviewer for government agencies and foundations worldwide. In addition, Prof. Skibicka has been the recipient of several prestigious Scandinavian prizes, including the Novo Nordisk Excellence Award, Ragnar Soderberg Fellowship, and the junior Fernström prize. In 2017 she has been elected for the Wallenberg Fellowship in Molecular Medicine.
BAT: the right kind of fat
Camilla C. Schéele (Copenhagen, Denkmark)

Camilla Scheele is an Associate Professor at NNF Center for Basic Metabolic Research at the University of Copenhagen, Denmark. Prof. Scheele received her PhD at Karolinska Institutet in Stockholm, Sweden.
Her research focus concerns human brown fat, its potential to counteract obesity and type 2 diabetes and its role in human metabolism. Her research team characterized human supraclavicular brown fat and demonstrated, for the first time, that brown fat precursor cells can be isolated from adult humans and differentiated in vitro while maintaining features of brown fat. They further concluded that human brown fat is a heterogeneous tissue and are now establishing single cell methods to further understand the differentiation, function and subtypes of human brown fat cells. Another major research interest of her group is to identify adipokines specifically secreted from brown fat, with the hypothesis that there are yet unknown brown adipokines, i.e. batokines, with an important role in regulating human metabolism and brown fat differentiation.