Welcome at the GRK1957 "Adipocyte-Brain Crosstalk"
Our DFG funded Graduiertenkolleg 1957 offers focused research projects and a structured training programme. In an interdisciplinary research approach we address the effects of hormones derived from adipose tissue (adipokines) on CNS function and, in turn, the control of adipose tissue and body weight by the brain.
Adipokine research
Adipocytes secrete bioactive factors that act in an autocrine, paracrine, or endocrine manner similar to the cytokine peptides of the immune system, thus termed adipokines. Since the discovery of the first adipokine, leptin, a growing number of such fat cell-derived peptide hormones has been described including adiponectin, nesfatin-1, or visfatin; but also inflammatory cytokines and steroid hormones.
At the Lübeck campus a unique and historically grown focus on adipokine research exists with a strong integration of basic and clinical research.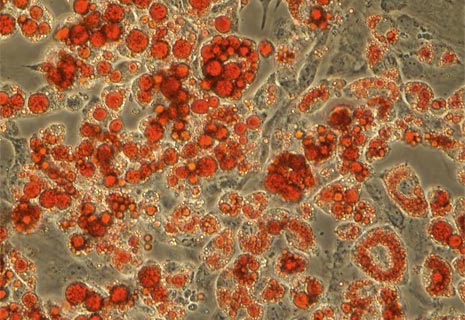 Central adipokine effects
Adipokines signal the adipose state to appetite-regulating centres of the brain. In the hypothalamus, leptin inhibits appetite-promoting neurons in the arcuate nucleus and promotes energy expenditure via stimulation of sympathetic nerve activity to adipose tissues. Such feedback mechanisms also exist for other adipokines. The complex autoregulatory feedback system between central and adipose tissues is essentially involved in adjusting setpoints of energy homeostasis.
This adipocyte-brain crosstalk (ABC) lies at the heart of our DFG research training group GRK 1957.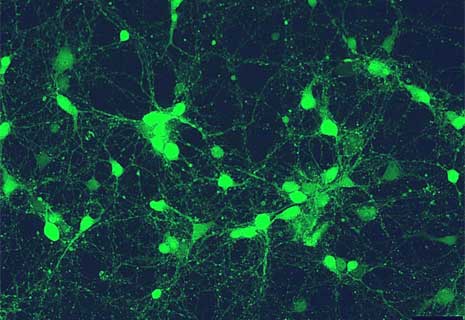 ---
---
Martina's Research Stay at UCL
"The GRK 1957 gave me the opportunity for a three-month external research stay. Focusing on improving my methods skills I chose to visit Prof. Dr. Karl J. Friston and Dr. Peter Zeidman at the Wellcome Trust Centre for Neuroimaging (WTCN) in the United Kingdom. The WTCN at University College London (UCL) is an interdisciplinary centre for neuroimaging excellence and the home of SPM - a standard toolbox for analysing neuroimaging data – originally developed by Karl J. Friston. One part of my PhD project is about whether a transcutaneous vagus nerve stimulation (tVNS) changes the cognitive processing of food stimuli in obese men. Therefore, the WTCN was the perfect place to learn advanced fMRI techniques.
The goal of this research stay was to perform a Dynamic Causal Modelling (DCM) analysis on my neuro imaging fMRI data. Moreover, I learned to use parametric modulation in spm classical fMRI analysis and to proof the results with bayesian statistics. By participating in meetings and presentations I could also broaden my horizon on the topics of active inference and the free energy principle. And finally, it was exhilarating to be at the cutting edge of methods development for neuro imaging.
At the institute I was surrounded by friendly, helpful and open-minded people and enjoyed an atmosphere full of motivation.
London from April to June 2019 not only enchanted me with its beautiful spring, but also with its numerous, world-renowned museums and the relaxed pub atmosphere, allowing inspiring discussions with colleagues.
Personally, I had the chance to improve my English competency. In particular, I learned that really understanding a language is not just about words, but about an entire way of thinking."

- Martina Obst



3 MD stipends open!
Funding volume: 3 MD stipends, à 6 months, 838 €/month
Latest start: 01.07.2019
News
Wed, 24.07.2019
Workshop Self-Marketing and Networking for Women Professionals and Academics
will take place on 24-25 July 2019 in CBBM, Ground Floor, Seminar Room B1/B2.

Trainer:...
---
Thu, 25.07.2019
FENS travel grant awarded to Anne-Marie Neumann
Warm congratulations to our PhD student Anne-Marie Neumann who was awarded the FENS travel grant to...
---
Wed, 31.07.2019
Martina's Research Stay at UCL
"The GRK 1957 gave me the opportunity for a three-month external...
---
Wed, 31.07.2019
New paper by alumni Janis Nolde and Arkan Al-Zubaidi
Congratulations to our alumni Janis Nolde and Arkan Al-Zubaidi who just published another paper...
---
Wed, 31.07.2019
Sherif's Research Stay at University of Lausanne
"I had a great opportunity to spend my research stay in the lab of Prof. Luc Pellerin in...
---
Tue, 12.11.2019
CBBM Lecture "LIVER-TO-FAT RETINOL TRANSPORT CONTROLS COLD-MEDIATED ADIPOSE TISSUE BROWNING" by
Assoc.Prof. Priv.Doz. Dr. Florian Kiefer, PhD, Clinical Devision of Endocrinology and Metabolism,...
---