Welcome at the GRK1957 "Adipocyte-Brain Crosstalk"
Our DFG funded Graduiertenkolleg 1957 offers focused research projects and a structured training programme. In an interdisciplinary research approach we address the effects of hormones derived from adipose tissue (adipokines) on CNS function and, in turn, the control of adipose tissue and body weight by the brain.
Adipokine research
Adipocytes secrete bioactive factors that act in an autocrine, paracrine, or endocrine manner similar to the cytokine peptides of the immune system, thus termed adipokines. Since the discovery of the first adipokine, leptin, a growing number of such fat cell-derived peptide hormones has been described including adiponectin, nesfatin-1, or visfatin; but also inflammatory cytokines and steroid hormones.
At the Lübeck campus a unique and historically grown focus on adipokine research exists with a strong integration of basic and clinical research.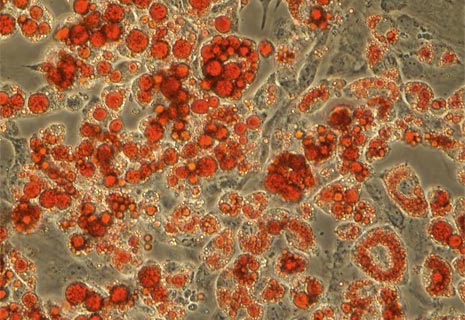 Central adipokine effects
Adipokines signal the adipose state to appetite-regulating centres of the brain. In the hypothalamus, leptin inhibits appetite-promoting neurons in the arcuate nucleus and promotes energy expenditure via stimulation of sympathetic nerve activity to adipose tissues. Such feedback mechanisms also exist for other adipokines. The complex autoregulatory feedback system between central and adipose tissues is essentially involved in adjusting setpoints of energy homeostasis.
This adipocyte-brain crosstalk (ABC) lies at the heart of our DFG research training group GRK 1957.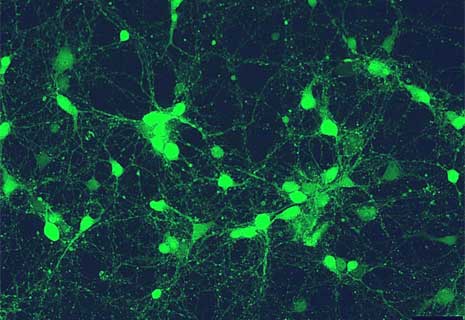 ---
---
Research Stay Reports by Anne-Marie and Sandro
Anne-Marie Neumann, University of Murcia, Spain

"I was offered the opportunity to work with Marta Garaulet from the University of Murcia in the South of Spain from September to December 2019. During my lab stay I will investigate circadian rhythms of white adipose tissue, wrist temperature, and activity as predictors for weight-loss efficiency by bariatric surgery. The handling of human longitudinal data sets and statistical evaluation of the data is"uncharted territory" for me and particularly interesting to learn. Moreover, by helping to establish methods I learned in Lübeck, I can gain more scientific independence. Being in a foreign lab broadens the view on working habits and organization structures. In summary, my stay in Murcia has given me a unique chance to grow personally and professionally.
Murcia is a university city of ~450 000 inhabitants close to the Costa Blanca surrounded by mountains. Being outside your comfort zone is always challenging - living in Spain as a German is no different. I need to adapt to the working rhythms from day one. People are very lively and socially active until late evening every day. The Southern climate has awarded me with an extended summer and amazing food. The custom of sharing tapas together after work, discussing life and enjoying the weather is a wonderful experience. Despite the language barrier I feel very welcomed and taken care of by the group, my host and the people I meet along the way."
Sandro Catzeddu, University of Göteborg, Sweden

"I had the opportunity of working in Göteborg, from September until December 2019, under the supervision of Karolina Skibicka. During the four months of my stay, I aim to investigate a) a putative link between GLP-1, nesfatin-1 and the brainstem, and their ability to regulate food reward-related behavior; b) whether this putative relationship shows gender differences between male and female rats.
Göteborg is a lively city. It is amazingly shaped due to the passage of the Göta river, which forms lots of canals inside the city. Göteborg has a lot to offer - an active city center full of cafes and tourist attractions, beautiful parks and natural reserves - one can find his way to enjoy after a hard day of work!
Overall, I am very grateful for this experience, as it provides me access to new methods and helps me building new collaborations for my own research in the future. Besides, the welcoming environment both in and outside the lab are shaping this stay as a very positive experience."
*1 PhD Position in Neuroscience Open*
Project: Central regulation of CO2-induced metabolic changes of adipose tissue and its alterations in endothelial dysfunction (Dr. Jan Wenzel & Prof. Markus Schwaninger)
Click here to apply

Mon, 06.04.2020
Successful online PhD defense by Sebastian Nock
Congratulations to Sebastian Nock who successfully defended his PhD thesis on March 31, 2020....
---
Sat, 18.04.2020
2 new papers from Mittag's group in Thyroid
Congraulations to our 2nd generation alumni Beate Herrmann and...
---
Tue, 23.06.2020
CBBM Lecture by Prof. Céline Vetter
Circadian and Epidemiology Lab, University of Colorado, USA
---
Tue, 22.09.2020
CBBM Lecture by Prof. Dr. Gregor Eichele
Department of Genes and Behavior, Max Planck Institute for Biophysical Chemistry
---
Tue, 17.11.2020
CBBM Lecture by Prof. Dr. med. Andreas Birkenfeld
Leitung der Klinik für Diabetologie, Endokrinologie und Nephrologie, Universitätsklinikum Tübingen
---