Call for Applications
11 PhD Positions in Neuroscience are now open at Graduiertenkolleg GRK1957 "Adipocyte-Brain Crosstalk", University of Lübeck. We are looking for highly motivated candidates for the PhD projects. Tentative start: May 2017.

Read more about our offers and requirements.
Welcome at the GRK1957 "Adipocyte-Brain Crosstalk"
Our DFG funded Graduiertenkolleg 1957 offers focused research projects and a structured training programme. In an interdisciplinary research approach we address the effects of hormones derived from adipose tissue (adipokines) on CNS function and, in turn, the control of adipose tissue and body weight by the brain.
Adipokine research
Adipocytes secrete bioactive factors that act in an autocrine, paracrine, or endocrine manner similar to the cytokine peptides of the immune system, thus termed adipokines. Since the discovery of the first adipokine, leptin, a growing number of such fat cell-derived peptide hormones has been described including adiponectin, nesfatin-1, or visfatin; but also inflammatory cytokines and steroid hormones.
At the Lübeck campus a unique and historically grown focus on adipokine research exists with a strong integration of basic and clinical research.
Central adipokine effects
Adipokines signal the adipose state to appetite-regulating centres of the brain. In the hypothalamus, leptin inhibits appetite-promoting neurons in the arcuate nucleus and promotes energy expenditure via stimulation of sympathetic nerve activity to adipose tissues. Such feedback mechanisms also exist for other adipokines. The complex autoregulatory feedback system between central and adipose tissues is essentially involved in adjusting setpoints of energy homeostasis.
This adipocyte-brain crosstalk (ABC) lies at the heart of our DFG research training group GRK 1957.
---
---
3rd ABC Summer School, 14-15 September 2016, schlossgut gross schwansee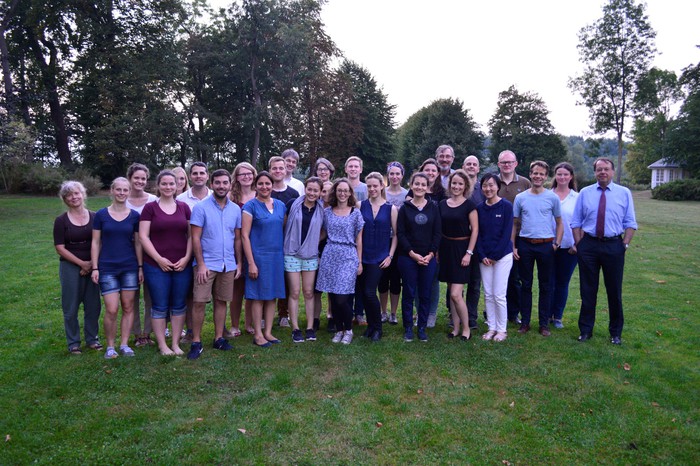 Career Planning was the focus of this year's summer school, which took place on 14-15 September 2016 in the picturesque castle schlossgut gross schwansee near the Baltic Sea. As the 1st generation ABC students are going to graduate soon choosing a suitable career path has become ever more important topic of discussion. Speakers from a variety of professions gave talks on their individual biography, offering a glimpse into the pros and cons of industry and academia. Not only the external speakers but also the ABC PIs were invited to join the "Q&A On Stage" game where students can ask any kind of career-related questions and each guest on stage needs to give an original answer in one sentence one after another. The first day was successfully closed with a BBQ on the meadow and a bonfire beside the lake. On the second day students completed an intensive training with a professional career coach to develop their own best-match job profile.
"Two roads diverged in a wood, and I-
I took the one less traveled by,
And that has made all the difference."

- Robert Frost
No matter what kind of road they choose, we wish our students all the best on their future road.
Tue, 04.10.2016
Isa Kolbe as first author
of an article in the journal "Biological Rhythms"
---
Fri, 07.10.2016
Doctoral Seminar "Development of weight in Mas-knockout mice under AT1-receptor-inhibition"
by Carla Dapper, MD Student Work Report
---
Mon, 31.10.2016
11 PhD Positions in Neuroscience
at Graduiertenkolleg GRK1957 "Adipocyte-Brain Crosstalk", University of Lübeck
---
Mon, 31.10.2016
My Research Stay in the Heat of the Alps
by Rose Kohlie For two months...
---
Mon, 31.10.2016
My Research Stay in Santiago de Compostela
by Sogol Gachkar
---
Mon, 31.10.2016
My Research Stay in Seattle
by Franziska...
---
Wed, 02.11.2016
Introduction to DFG Grant Proposals
by Prof. Dr. Werner Solbach
---
Fri, 03.03.2017
The 1st ABC (Adipocyte-Brain Crosstalk) Symposium
will take place on March 3-4, 2017 in Lübeck. For details please click
---